27 February 2023
Notice Regarding Travel NOC
(Effective from 1st March 2023)
Nepali Citizens travelling to or via Saudi Arabia, Qatar, Kuwait, United Arab Emirates, Oman, Bahrain, Iraq, Libya and Lebanon through Indian airports are required NOC (No Objection Certificate) issued by this Embassy.
However, those travelling from Nepali Airports and having transit at Indian Airports or travelling to destinations directly from India or en-route other than the above-mentioned countries, or those having valid visa or residence card from the United States /United Kingdom/Australia / Canada/Schengen countries do not require such NOC.
Nepali citizens who require travel NOC are requested to contact this Embassy along with the following Documents at least 7 days prior to the intended travel.
Required Documents:
An application with signature of the traveler mentioning genuine reason for travelling to aforementioned countries from India;
The traveler's original passport and its copy;
Visa copy of the country of destination and air ticket;
Copy of employment permit issued by the Department of Foreign Employment of Nepal if the applicant is travelling for employment purpose;
Copies of travel history in case the applicant has previously travelled abroad other than India (visa, departure and arrival stamps etc.); and
Documents related to study, occupation etc. if applicant is currently residing in India in connection with such study, occupation etc.
Proof of payment for service charge of NOC.
NOC with QR code can be generated through login in the URL 
Service Charge for NOC:  INR 1000.00 for each traveler is required to be paid online in the following Bank account or by scanning the following QR code.
Name: Embassy of Nepal
IFSC Code: HDFC0001220
HDFC Bank, M-36 Connaught Place.
AC: 50200058949431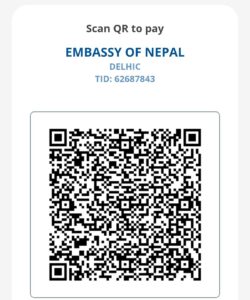 For further clarification, please contact
Email: consularnepalembassy@gmail.com
Consular Hotline No. 8929601925